01. Aug 2022
Recap: "Insights from 10 Horizon projects: EU policy for bio-based and biodegradable plastics"
Here you can read a summary of the 6th EBRN event titled "Insights from 10 Horizon projects: EU policy for bio-based and biodegradable plastics", which took place on 22 June 2022. The event was livestreamed on the BIO-PLASTICS EUROPE YouTube channel.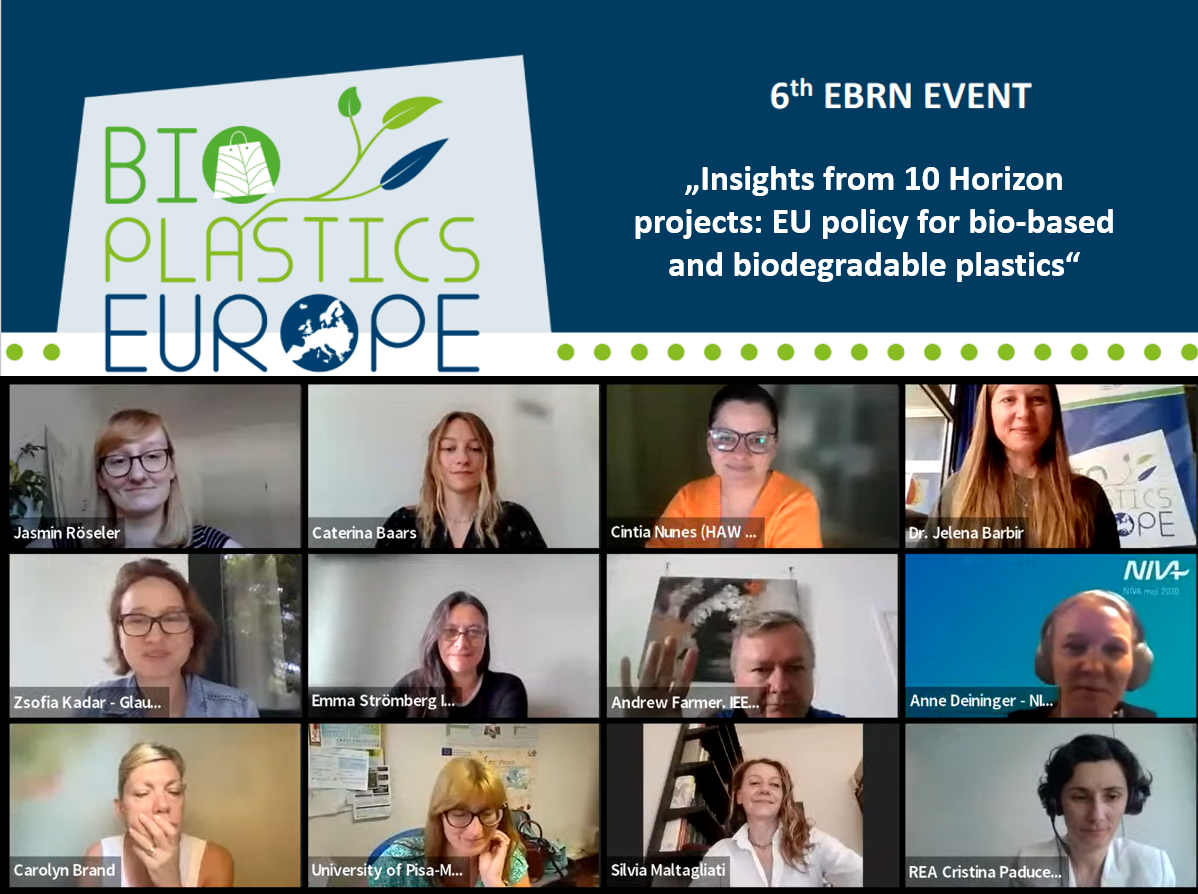 Bioeconomy, circularity and sustainability are becoming policy priorities in the European Union. In order to preserve the environment and biodiversity in Europe, the European Commission has a growing interest in safe and sustainable alternatives. One of those alternatives could be bio-based and biodegradable plastics. They have the potential to preserve limited resources and lessen the plastic pollution in the environment. Nevertheless, they also pose challenges when deciding on appropriate applications and their proper disposal, which need to be regulated in order to mitigate negative impacts.
Therefore, BIO-PLASTICS EUROPE emphasised again this topic during the 6th EBRN event, bringing together representatives of 10 Horizon projects and 9 EU policy officers to a roundtable to discuss policy recommendations for the bio-based plastics sector. The event was moderated by Dr. Jelena Barbir from HAW Hamburg (the lead manager of BIO-PLASTICS EUROPE). A keynote speech was provided by Dr. Silvia Maltagliati, EU policy officer, on EU research and innovation policies in the bio-based and biodegradable plastics sector.
After the keynote speech, ten Horizon founded projects pitched in 5-minute presentations their key points for bio-based plastic and microplastic pollution policies. The projects involved were LABPLAS, Limnoplast, PlasticFatE, BIO-PLASTICS EUROPE, SEALIVE, PAPILLONS, UPLIFT, upPE-T, GLAUKOS and BIONTOP. Following the presentations, a panel discussion was opened with the EU policy officers, where they answered questions collected by the projects upfront the event.
After the event, the attending project representatives and EU policy officers collaborated in creation of an online document posing and answering important policy and research questions, which can be found here: https://bioplasticseurope.eu/downloads/project-events
Overall, the event was successful in bringing together projects working on bio-based plastics and EU policy officers to discuss future policy recommendations. Further events are already planned for November 2022 in collaboration with EuBioNet and European Bioplastics Association, where policy officers will in turn present newly developed policies and answer more questions by the projects.
Stay tuned!