25. Nov 2022
Projects2policy: "Aligning outcomes from EU projects with the EU policy for bio-based and biodegradable plastics"
On 23rd November 2022, BIO-PLASTICS EUROPE hosted the 7th EBRN event in collaboration with GLAUKOS project. The event took place online from 10 to 12h (CET) and was also streamed live. The workshop was joined by representatives of EU research projects as well as EU policy officers.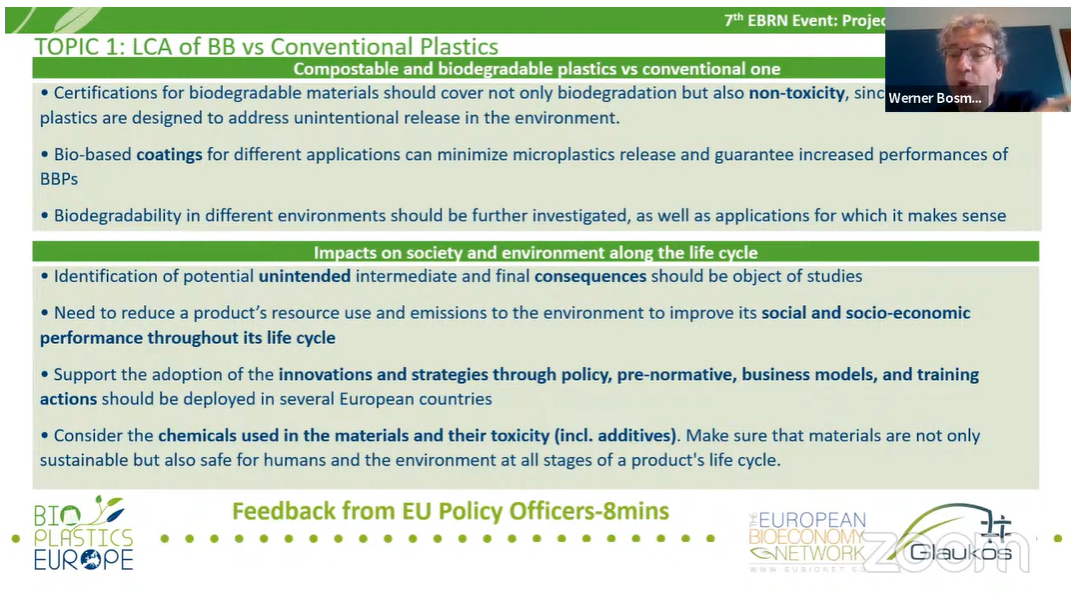 BIO-PLASTICS EUROPE and GLAUKOS continued their fruitful collaboration with the event on the 23rd November that was attended by 50 participants, 12 of which were EU policy officers, and viewed by 59 people in the livestream. The event built on previous joint work between the two projects, presenting the outcomes of a workshop organised earlier in November, where 49 EU projects discussed possible policy recommendations and challenges to be addressed in the field of bio-based and biodegradable plastics.
The meeting was opened by Jelena Barbir (BIO-PLASTICS EUROPE) and Susanna Albertini (GLAUKOS), introducing both projects and presenting the concept behind the Projects2Policy workshops and how it could be utilized to align communication between EU projects and EU policy.
Estela Lopez-Hermoso (European Bioplastics) gave a keynote speech expressing her concern about the lack of recognition of bio-based plastics and policy surrounding it. She explained the role European Bioplastics takes in policy making and its work towards a circular economy.
After the opening speeches, the event encompassed presentations and discussions on 4 main topics with 4 questions each, that were elaborated by EU projects during the last joint workshop on 3rd November 2022. After each question, the policy officers were given the stage to share their insights and feedback. The four topics covered were LCA of bio-based vs conventional plastics, End-Of-Life Options Raising Awareness and Stakeholder Engagement and Projects contributions to EU Policies.
The workshop sparked some lively discussions between policy officers and projects on how to shorten the gap among projects and policies and how to increase opportunities for mutual learning and exchange. The policy officers expressed a general need for clear scientific facts to form based policy decisions. The need for a mutual language was expressed from both sides.
Overall, the workshop proved to be a starting point for continued collaboration for projects and policy officers to optimize policy recommendations in the field of bio-based and biodegradable plastics. Also, the collaboration between BIO-PLASTICS EUROPE and GLAUKOS strengthened in the joint goal to facilitate communication between research and policy. The next policy workshop in collaboration between the two projects is planned for early next year.