18. Jul 2022
Meet our partners: HAW Hamburg
This week, as part of the Partner Introduction Series, we introduce you to our team at the Hamburg University of Applied Sciences (HAW), the coordinator of the BIO-PLASTICS EUROPE project. In this project, the HAW has been represented by 2 teams: the Research and Transfer Centre on Sustainability and Climate Change Management (abbr. in German FTZ-NK) which is coordinating the project and the Research group Environmental Analytics and Ecotoxicology examining the safety of the innovative bio-based plastics.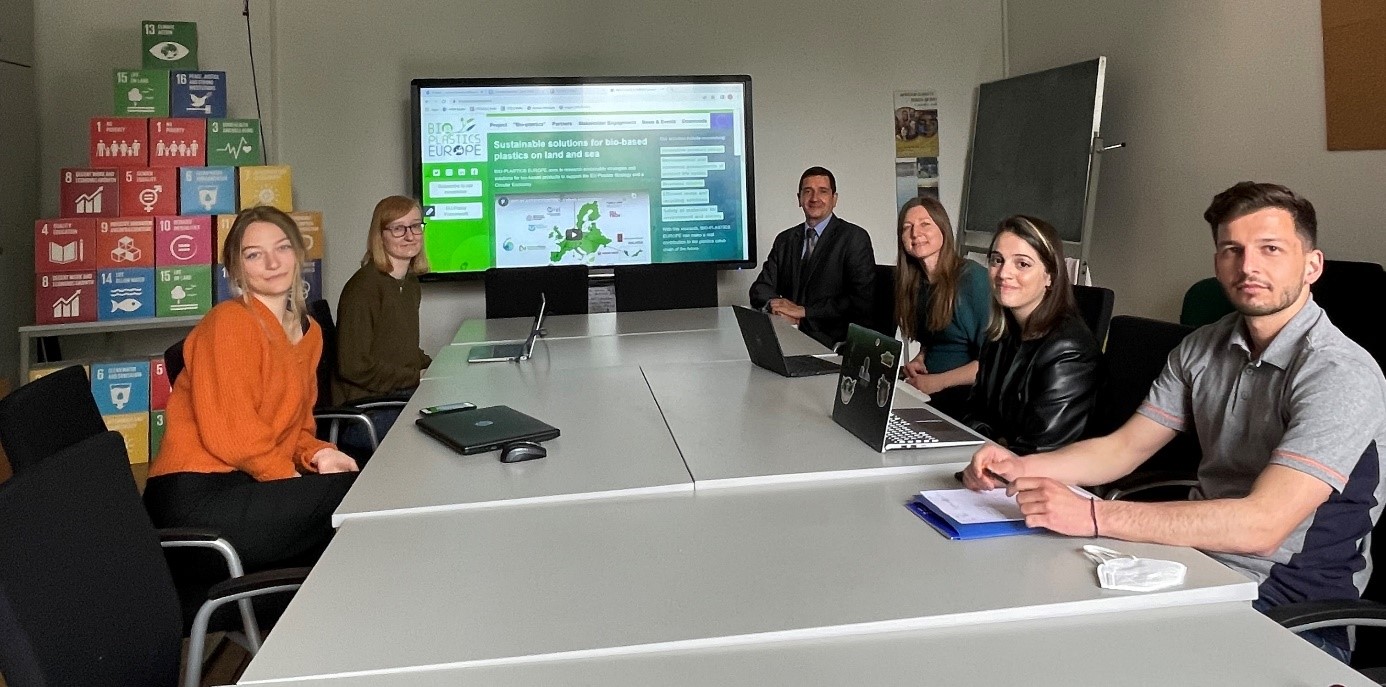 Pictured (left to right): Caterina Baars, Jasmin Röseler, Prof. Dr. Dr. Walter Leal, Dr. Jelena Barbir, Margarida Correia and Alexandros Lingos
The FTZ-NK team consists of Prof. Dr. Dr. Walter Leal, the coordinator of BIO-PLASTICS EUROPE, who is the head of the FTZ-NK with a main research focus on sustainable development and climate change. Dr. Jelena Barbir is the lead project manager of the project, with over 8 years of experience in project management and with a strong background in sustainable development, biodiversity conservation and climate change. Jasmin Röseler is the communication manager of the project with background in health sciences, and Cíntia Nunes is the FTZ-NK lawyer supporting legal aspects of the project. She is involved in developing a sustainability framework to maximize the impact of the project.
Three interns are currently also part of the HAW team: Alexandros Lingos (from Greece), working on the HISCAP network and engaging Greek municipalities, Margarida Correia (from Portugal) assisting in the social media dissemination of the project, and Caterina Baars (from Germany), supporting project management and EBRN network.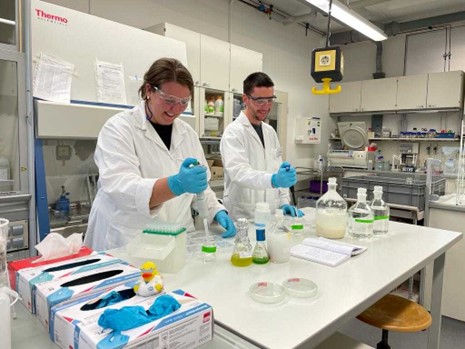 Laboratory at the HAW (Silja Denise Kröger)
The scientific team consists of Prof. Dr. Gesine Witt and Silja Denise Kröger who are investigating the potential toxicity impacts of the newly developed bio-based plastics on the terrestrial and aquatic environment as well as the possible effects on human health. For this purpose, bio-based plastics produced in the project are tested for their biodegradability under laboratory and field conditions. For example, degradability tests have been performed in the water of the river Elbe as well as in home compost.
In addition, the potential effects of the release of chemicals from the bio-based plastics that result from their degradation were investigated. This, in turn, sets the stage for further development of those bio-based plastics that are known to be less hazardous to human and environmental health. The research work conducted under this objective will contribute to the development of the EU-wide harmonized biodegradability criteria (under outdoor and marine conditions) and a sustainability framework that will increase market transparency and improve waste management practices on land and at sea.