03. May 2023
Introducing the BIO-PLASTICS EUROPE Safety Protocol
Bio-based and biodegradable materials have the potential to replace traditional petroleum-based plastics across a range of products; possibly contributing to a more circular economy. However, the uptake of these materials will not succeed unless consumers, manufacturers, and regulators are convinced of their efficacy.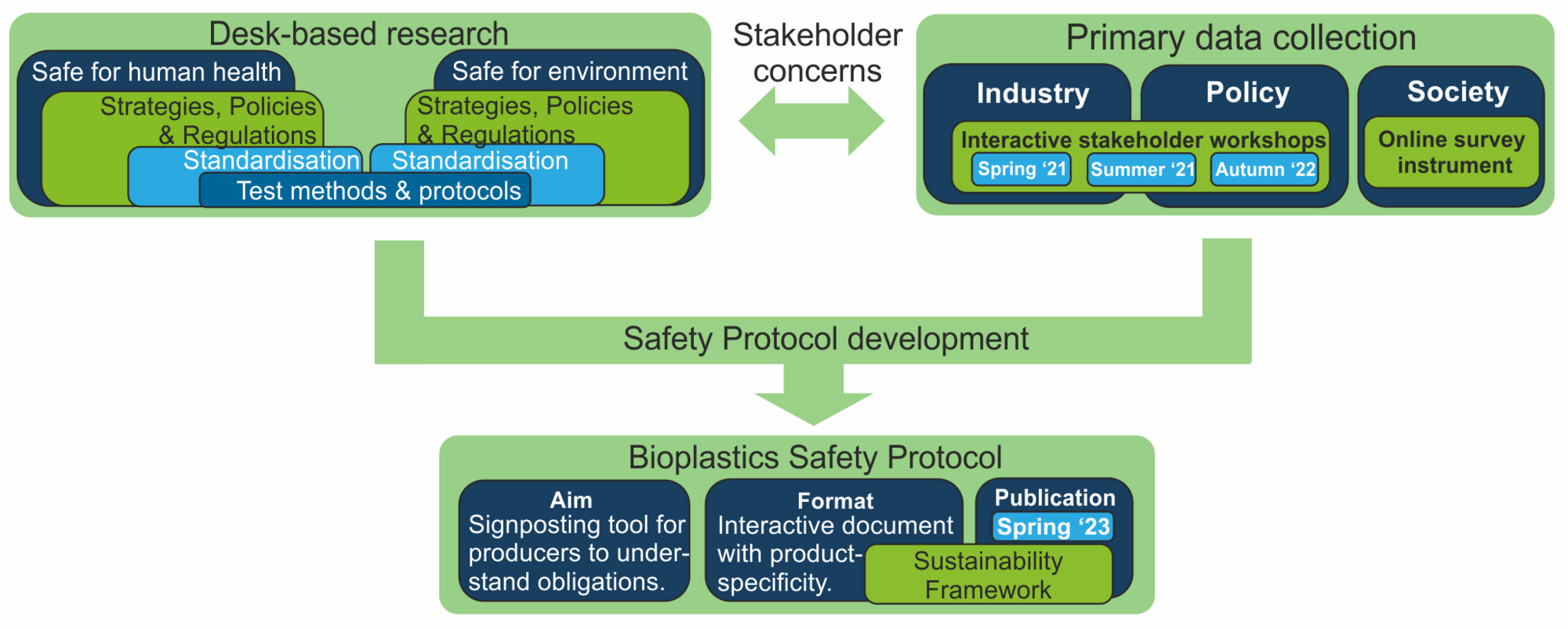 While researchers and innovators are taking steps to address issues related to technical performance, mechanisms which ensure that products made from new materials are safe (for human health and the environment) have received much less attention. Indeed, whilst efforts have been made to develop new standards that define what a bio-based or biodegradable plastic is, further consideration of the potential impacts across the value chain often rely on pre-existing mechanisms that were originally developed for traditional petroleum-based plastics.
Over the last three and a half years, colleagues from eight project partners (PI, HAW, TICASS, ASSBIOPLASTICHE, TALTECH, HHI and NATUREPLAST), led by the Manchester Metropolitan University (MMU), and with support from the wider BIO-PLASTICS EUROPE consortium, have explored the multitude of rules, regulations, recommendations, and directives that underpin the safe and sustainable use of bio-based and biodegradable plastics. A truly collaborative affair! As shown by the figure, both desk-based research and stakeholder engagement activities have been used to collect, collate, and synthesise information that producers of bio-based and biodegradable products may find relevant.
Using all the information gathered, an interactive tool has been developed that allows users to explore different documents that may be relevant in keeping bio-based and biodegradable plastic products safe and sustainable. The tool also includes added product specificity, where the information has been aligned to the product groups targeted within the BIO-PLASTICS EUROPE project – toys, products that come into contact with food and other substances (packaging and cutlery), products used on the land (mulch films and geomembranes), and products used within aquatic environments (fish crates and baits).
The tool is targeted at companies that are looking to introduce either bio-based or biodegradable plastics into their product lines and will help to navigate the safety requirements that are associated with them. Simply put, it acts to signpost a range of European and International regulations, standards, etc., as well as relevant certification schemes that the company could consider.
The BIO-PLASTICS EUROPE Safety Protocol can be accessed directly through this link (it is best viewed on a computer screen, laptop, or tablet): https://xd.adobe.com/view/2c735ca9-34c2-4b6f-b596-d9afdffbdb84-7920/?fullscreen
In addition to this tool, BIO-PLASTICS EUROPE partners, MMU and HAW, are currently developing a Sustainability Framework for Bio-based Projects. This will complement the Safety Protocol and will be published by the end of the project – so keep your eyes peeled!